Rags Beneath (book 3 of the Apparitions Series) ~ Released in eBook!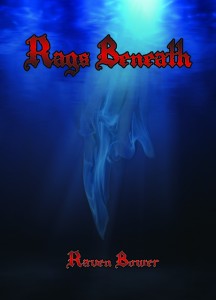 Woohoo!
Lain and I are proud to announce that Rags Beneath has been launched in Kindle form! The  Nook edition is forthcoming and the paperback is due for release in September!
For your enjoyment, here's the blurb and short excerpt!
A family vanishes while sailing on Lake Superior with no sign of wreckage, no S.O.S and no bodies. A curse is unleashed by an intrepid team of shipwreck hunters, releasing a crew of vengeful spirits.
Desperate and his world spinning out of control, Sheriff Trace Sinclare calls upon the one woman capable of granting him closure. Unfortunately, his call for aid puts Bailey at the forefront of a brutal fight for life and justice.
Upon Superior's haunted shores Bailey faces the fury of a ghost scorned and in order to survive and save her friends, she must discover the truth behind a tragic tale of lost love.
Excerpt:
Cold. An endless cold that never began and never ended. It stretched throughout her memory as if it had been an eternal part of her.
Silence. The silence of an unmarked grave. It was a silence so great it was broken only by the creaks and groans of her coffin. A coffin buried in a grave unknown by those of her blood that still roamed the land above, alive and breathing. No one visited a forgotten grave. No one spoke prayers to release her soul from its hellish fate.
How many years had it been since she'd known anything but those dreaded companions of cold and silence? Forever.
Yet today she felt it. Felt her. It was a tingling vibration, not so far away. The breath of life blew so close. So close. The breath of freedom. The breath of revenge.