Nymph's Lair ~ New Adventure Fantasy Novella Released!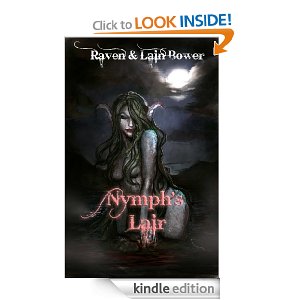 Lain and I are pleased to announce that our adventure fantasy novella, Nymph's Lair, is now available at Amazon in print and Kindle by Hydra Publications! This novella kicks off a new fantasy series I'm working on  >:)  Muahhaha
Blurb:
For years, the barbarian warrior Roch has hunted the murderous pirate Victor Karn. Finally, through a vision from a beautiful witch, Roch is shown an opportunity to infiltrate the pirate's crew, but to succeed he needs the fabled treasure of a seductive sea nymph.
With his trusted dwarven companion Tigs at his side, Roch sets out to find and defeat the sea nymph. With a malicious stalker haunting their every move, the duo finds that surviving to face the nymph is a much greater challenge than they'd anticipated.
From me:
Sentimental fact about the naming of a dwarf – My first dwarven character makes his debut in Nymph's Lair and in honor of the event, he was named after a cuddly cat Tigs that passed on a few years ago. Live on Mr. Tigs.