Rose Water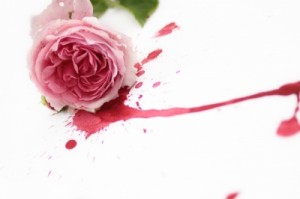 Rose Water
Nothing smells quite as earthy as rose water, plus it's great for the skin after a long soak in the tub. It's super simple to make and requires only basic ingredients. Rose petals soften, sooth and nourish the skin and can be of particular use on sun or wind damaged skin.
Ingr:
1 heaping tablespoons rose petals
4 oz. water
4 oz. glycerine (optional)
or, 4 oz. honey (optional)
Place the petals in a glass bowl and bring water to a high simmer. Pour the water over the petals and cover the bowl with a plate or lid. Allow the mix to steep for at least a half an hour. Strain the petals and put the water into a container of your choice. It can be stored in a jar in the fridge or put into a spray bottle to mist your skin throughout the day.
To make a soothing lotion add 4 oz of vegetable glycerine or honey after draining the water. The glycerine and honey dissolve into the water better if the water is still warm.
* Photo by Simon Howden / FreeDigitalPhotos.net