Hydra Games at Context Convention 2012!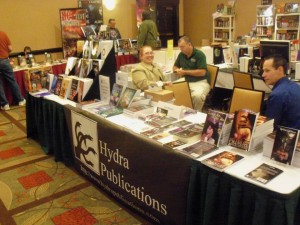 Last weekend's Context Convention 2012 was the first convention Lain and I attended in quite some time and it was a blast! We were able to meet a lot of fellow Hydra Publications authors, our publisher Frank Hall, his wonderful tea-loving wife Kim and his brother Jerry. There were many fantastic people there and many intriguing and strange conversations were had   😉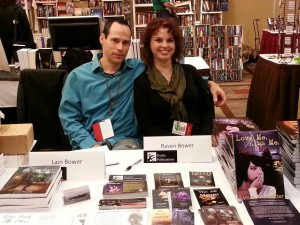 We didn't take a whole lot of pictures because uhm…I did actually remember to pack the camera but got so wrapped up in talking to people and perusing the Dealer's room in search of booty that I totally forgot  :S  Thanks to Eric Garrison for the above photo! And Frank Hall for most of the rest of them hehe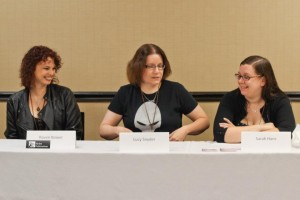 We participated on a few panels including the Women in Horror panel with Lucy Snyder and Sarah Hans – it was a lively discussion on how differently women in the dark genres are treated vs. males. When people discover that I'm a writer, the most common thing out of their mouths is "Oh! You write children's books?" Seriously? Do I LOOK like I write children's books? ARGH. Then when they discover I write dark fiction – particularly with an erotic bent – I get that 'what the hell is wrong with you look'. You'd swear they'd start backing away if social protocol allowed >:)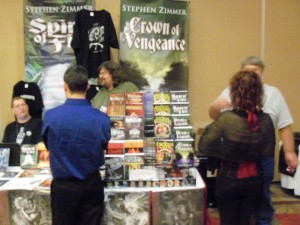 The above photo is the Seventh Star Press table with RJ Sullivan, Lain, Stephen Zimmer and I along with a staff member with a wonderful wealth of information on the days of yore (which is what we were discussing in this photo).
We also met L.E Modesitt! Live and in person! He graciously signed a copy of Imager's Challenge for me and chatted for a while – that man's brain must have an extra dimension in it to house all his knowledge!
Can't wait to see what's on the Context agenda for 2013!